This post is more than 3 years old.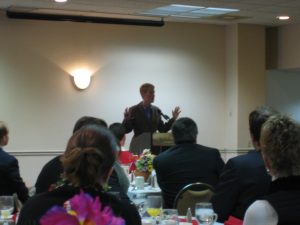 It's an exciting day for those interested in building a better Richmond. Consultant and speaker Rebecca Ryan is in town to talk to business leaders, civic planners, elected officials, community members, and especially young adult professionals about how to move from "Brain Drain" to "Brain Gain" in Wayne County. I'm usually cautious about having outside parties come in to a community to tell it what it needs (and the costs expended to do so). But after meeting and talking with Rebecca at a reception last night and hearing her speak to community leaders this morning, I know that she has some great things to say (and a really engaging way to say them) about the state of our community and how we can be better in ways that really matter for the future. Of course, I'm a little biased in that Summersault is a sponsor of the event and I'm on the planning committee that brought her here, but this is definitely far above the standard fare. In any case, if you're reading this on 2/22 and are interested to hear her speak locally, she's got another gig tonight at the 4th Floor Blues Club at 5:30 PM - e-mail info@richmondyap.com to RSVP. I'll hopefully get a chance to do another post soon with some thoughts on the substance of these conversations.
I'm a journalist, publisher, software developer and entrepreneur with experience as a founder and organizational leader.
Work with me
or learn
more about me
.