This post is more than 3 years old.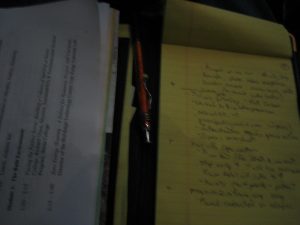 Tomorrow is Election Day here in Richmond, and in the name of helping us move toward a voting process where the vote you cast can actually be verified, I'll suggest these three questions to ask when you visit your friendly local computerized voting center. You may not get the answers you want, but the people who oversee the process will not know that changes are desired unless they hear from you:
Can I please have a paper record of my vote? The answer will likely be "no." In Indiana, there is no way for you to have a written record of your vote. The state would like you to trust that it has properly received and counted your vote in its computer system. If there were a need for a recount, the state would use the computer record of your vote, not a paper trail that humans can look at. But hey, who ever heard of an election that was close, or one where a recount really mattered?
Can you please show me a copy of the software source code that powers these voting machines? The answer is probably "no" again. The software that runs on the voting machines we use was developed by for-profit corporations, and the contract that your lawmakers typically make with them is that the source code won't have to be available for the public to see. We just have to trust that they haven't made any mistakes that might affect vote counts, or worse, any intentional changes that might alter the outcome of the election. But hey, who ever heard of someone trying to change the outcome of an election for their own benefit?
Can you please provide me with a copy of the testing procedures to insure that my voting machine has not been altered or compromised? Many officials will provide you with a copy of the procedures if you ask in advance, and sometimes copies may be available onsite at the voting center. You may be charged a reasonable per-page copying fee. If you can't get your verbal request fulfilled, submit your request in writing, which creates a legal duty for your public officials to produce the documents. Once you have them, you can decide if they're sufficient for you to trust the democratic process to the integrity of the machines and the companies that make them. But hey, who ever heard of a government-managed process that wasn't totally comprehensive and in the full interest of its citizens?
You can learn more about verified voting at VerifiedVoting.org and their page on Wayne County's voting equipment. If you'd like to take further action on this issue, there's a Citizens Tool Kit available that includes notes on how to raise awareness and make change in your community.
I'm a journalist, publisher, software developer and entrepreneur with experience as a founder and organizational leader.
Work with me
or learn
more about me
.