This post is more than 3 years old.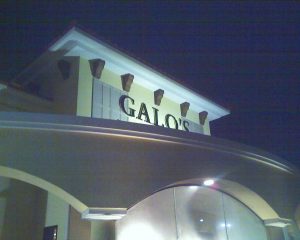 I don't usually go to restaurants the first day they're open. The last time I tried to do that it was based on bad information and the place was still preparing to open. The time before that we walked in and seated ourselves, only to realize that the *next* day was the official public open, and that we had just joined in a private friends and family only dining experience. Oops.
But, third time's a charm. Tonight's dining experience at Galo's Italian Grill here in Richmond was worth the potential for injury or embarrassment, and neither occurred. In fact, from start to finish, it was a pleasure all around.

First of all, there's something really impressive about a brand new, locally owned, built-from-scratch restaurant that's unique in its community (or "market"). Most of the restaurant openings in Richmond are either a revamping of a familiar space, the introduction of a chain restaurant that you pass five of between here and anyplace else, or the dressing up of a food concept that has been done over and over. Don't get me wrong: I'd rather existing buildings be reused than new ones built, and I'm all for recycling things that are still useful and known to work...but still, stepping through the Galo's front door into a space unknown and full of promise was quite fun.
As our server noted, Galo's had clearly brought in approximately 300 staff people for every customer on opening night, and so we were welcomed by a gaggle of greeters who sat us promptly in the large open area at the center of the dining room. While it feels a little bit like a food court layout right now, the well lit ceiling mural, sturdy tables, hefty dinner ware and pleasant music countered that well; some plants, columns, candles and other decorations will help that along nicely. On the outer edges of this inner space one finds more intimate dining spaces, a nice non-smoking bar area, and a partially exposed kitchen. All in all, a very dynamic space with touches of elegance added while avoiding anything too pretentious or fancy.
The menu presented classic Italian fare with some nice variety thrown in. It was not too long or complicated, and though I resist treating a chain restaurant as a standard, it will feel familiar to those who have visited The Olive Garden. There was a decent wine selection for the price, the antipasto Bruschetta was fresh and flavorful, the salads were crisp and full of interesting ingredients - no iceberg lettuce here - and our pasta dishes were delicious - I can recommend the Pasta Mediterranean and Pasta Milano both. Topped off with rich and well-presented Tiramisu and fresh coffee, it was quite a meal, high quality all the way. Perhaps best of all, the portion sizes weren't ridiculously large or pitifully small (by American standards, anyway).
Perhaps because of my limited past experiences, I did have low expectations for the quality of service on opening night, but the place ran like it had been there for years. The staff were friendly and relaxed, there was only one dish that had to be preemptively declared unavailable, and the service was prompt and well-timed, even with what seemed like a pretty good crowd for the hour.
One should expect to spend at least $10/person at Galo's including tax and tip, and by the time you throw in any beverages, appetizers, salads, or desserts, you could be on your way to $25/person or more. For me, this puts Galo's up there with The Olde Richmond Inn (also owned by Galo and Linda Molina, who opened this newest venture together) as something of a "special occasion" dining spot, though I don't mind saying that the experience here seemed more "worth it" than at The Inn.
Time will tell how Galo's holds up in the oversaturated and unbalanced local restaurant scene, but if the opening night experience I had was any indication, it will be a new favorite destination for many. If you're not going to eat as local as your own garden, root cellar or pantry, then consider eating locally at Galo's Italian Grill.
Update May 5, 2008: A number of people have written me asking about how to contact Galo's, their hours, menu information, etc. In case it wasn't already clear, I have no official affiliation with Galo's, and don't have access to any special info about the restaurant that isn't available to other members of the public. If you need more information, please contact Galo's at 765-973-9000 or by postal mail at 107 Garwood Road, Richmond, IN 47374. Thanks!
I'm a journalist, publisher, software developer and entrepreneur with experience as a founder and organizational leader.
Work with me
or learn
more about me
.