This post is more than 3 years old.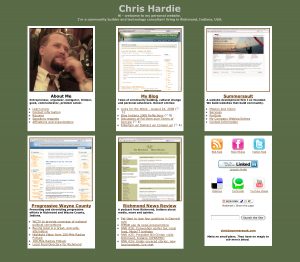 Those of you who follow my blog may not always bother to check in on the other parts of my personal website, which is understandable since they're much more static than the weblog. I do try to use the actual home page of the site as a fairly current jumping off point for various other projects, events, and adventures I'm involved in, and today I launched a redesigned version that organizes all of that a little bit better. It also has a photo that reflects the facial hair experiment I'm currently participating in.
The only major content component that didn't come over from the old design is a sampling of my Flickr photos, but I didn't get the sense anyone was really exploring my photography through that channel, and there's still a direct link to the photo stream on the new page. And, I added direct links to a lot of the other sites/tools where I have content or information posted.
The old design is preserved for posterity. I welcome any feedback.
I'm a journalist, publisher, software developer and entrepreneur with experience as a founder and organizational leader.
Work with me
or learn
more about me
.