This post is more than 3 years old.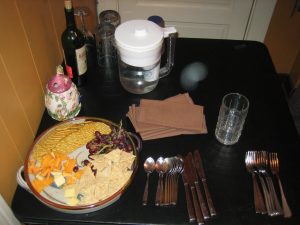 This weekend I had the opportunity to sample three local/regional shopping destinations that were all new to me:
1) The Fireplace Shop at 1000 North F Street in Richmond is an amazing little brick complex that showcases all that can be done with wood and other heat sources. From traditional fireplaces to wood burning stoves to corn pellet stoves to crazy other conflagrant configurations, it was quite a wonderland of temperature control. With the added bits of atmosphere like lazy cats sprawled across warm surfaces, fireplace and chimney sweep nostalgia everywhere, and the hustle-bustle of workers in workshops catering to the demands of the cold season, it was a nice place just to be and observe. The store also adjoins a ceramic tile store (which sells the locally made Terra Green Ceramics line) and a brick/stone store, so you can knock out quite a bit of home improvement planning in one place. I can't imagine there's one of these in every community these days, and I'm certainly grateful to have one here.
2) Rohan India is a new-ish Indian Food restaurant in Oxford, Ohio that offers slightly faster access to this cuisine from Richmond than similar options in Dayton, Cincinnati or Indianapolis. The Chicken Shahi Korma with Mushrooms dish I had was probably the best Indian dish I've had at any location in the region, and when I got a spice level of 6 (out of 10), they really came through with that. The proximity of this dining option may be just enough to balance out the problems with the atmosphere and service - several large screen televisions blaring music videos, sports games, etc. dominated the visual landscape, and we had to play the "forced eye contact and hand waving" game at times just to get a server to pay attention. But overall, it was a fine experience, and quickly becoming a destination for Richmondites - I've heard at least three other distinct mentions of it this weekend alone.
3) At Home Kitchen and Gourmet at 414 North 10th (in "The Loft" where Ghyslain is) is a new location brought to us by the folks at Warm Glow Candles. Right now the shop features a variety of kitchen and bath items with Warm Glow candles sprinkled amongst them. Many of the items seemed "pricey" for Richmond, but they were generally quite unique and beautiful, and compared to a Williams-Sonoma visit in Chicago, probably a good value. The clerk who checked us out indicated that the inventory was largely just overstock from the main Warm Glow store in Centerville, and that after the first of the year, they'd be reworking it to focus much more on being a comprehensive kitchen and bath supplier. Even though I'm not one to go shopping for such things regularly, it was just great to see a locally owned place like this pop up here.
On top of that, I got to attend the Alternative Holiday Bazaar at the Clear Creek Food Cooperative, which showcased locally-made crafts and gifts on Saturday against the backdrop of live music and smiling faces - the items will be on sale all this week too.
Seeing these places, these events, these people reminds me that there are people investing anew in this community and in the surrounding ones, people making a living here and doing it in such fun and interesting ways - I'm thankful for that.
I'm a journalist, publisher, software developer and entrepreneur with experience as a founder and organizational leader.
Work with me
or learn
more about me
.