This post is more than 3 years old.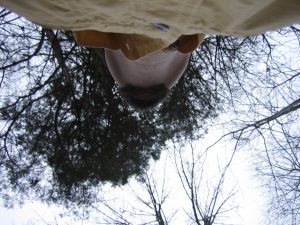 One of the trends that disturbs me about social networking sites and perhaps even online conversations in general is that the experience of interacting in those virtual spaces is seen by some as a substitute for real world experiences and interactions.  Or put another way, it's like we spend more of our time talking about how interesting and good we are at talking to each other, instead of actually talking about something.  I don't say this to discount those who have meaningful online exchanges or who find authentic joy in their online relationships, but I wonder what kind of meaningful definition of humanity we're creating for future generations, when what it has historically meant to "experience the world together" is being replaced with "experiencing Facebook together."
There's so much of a difference for me between "remember that one time when we went on that amazing hike, and all of the things we saw together" and "remember that one funny status update you posted on your FB account and what I wrote back - oh wow LOL good times!"  And I don't think it's just about individual preferences for how to spend time.  The meaningful shared real world experience doesn't have to be hiking...it could be a deep and/or challenging conversation; traveling together; raising a child together; worshiping or sitting in silence together; coming through some significant sickness or peril through someone else's care; experiencing the death of a loved one together...and so on.
These are experiences that have a substantial impact on who we are, memories that are worth preserving in some form for the day our lives flash before our eyes.  They shape us, evoke emotion, challenge our thoughts, highlight our vulnerabilities.  The things we experience together online - social networking status updates, blog conversations, etc. - seem like they're just "meta" stops along the way.
Maybe this isn't really something to worry about?  Maybe I'm just projecting a wistfulness about more time away from my computer screen?  Maybe all of the intensity and volume I see on Facebook and Twitter that is ABOUT experiences in those virtual places is misleading, and people are still out there having meaningful engagements with the real world all day long?
Or is anyone else concerned that Our Online World is becoming Our World?
Feel free to tell me in person, we can go for a walk together.
I'm a journalist, publisher, software developer and entrepreneur with experience as a founder and organizational leader.
Work with me
or learn
more about me
.