This post is more than 3 years old.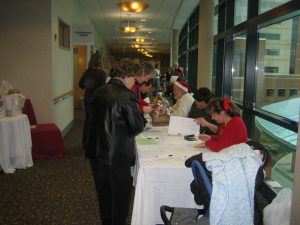 The 2007 Wayne County Alternative Gift Fair, held at the new Reid Hospital today, has just concluded. It was a great opportunity to get gifts for family and friends in the form of donations to local non-profit organizations, and at least for me, a great alternative to a day at the mall buying stuff. I was volunteering as a roaming greeter/explainer/helper, primarily tasked with walking folks through the order forms we used, but it was also a great chance to catch up with faces I haven't seen around town in a while. Lots of laughter, great music, kids running around having fun, and a real spirit of giving in the air - what a great idea! You can learn more about Alternative Gift Fairs in general, or check out my small set of photos from the fair.
If you missed it, you can also check out the Annual Holiday Bazaar happening next Saturday at the Clear Creek Food Cooperative, where you'll be able to buy crafts, jewelry, pottery and other homemade items from area artisans. See you there!
I'm a journalist, publisher, software developer and entrepreneur with experience as a founder and organizational leader.
Work with me
or learn
more about me
.