This post is more than 3 years old.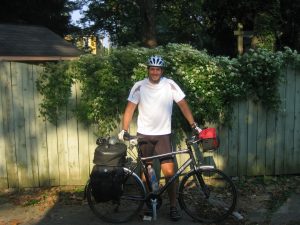 Last night I got to experience Richmond as a kind of tourist, and I really enjoyed it.  I was hosting cross-country cyclist Ben Lyon at my house through a Warmshowers.org connection, and he came into town ready to hang out and see some sights.  We ended up gathered with Aaron, Mark and Thomas on my front porch to hear about Ben's trip so far, and then set out on our bikes for dinner. 
We ended up at Little Sheba's, and as we were walking in, a couple asked Thomas and I, "Is this a good restaurant?  We saw the billboards on I-70 saying you had lots of great shops and restaurants."  It was fun to put myself in the shoes of someone who had just come off the highway to explore the central parts of Richmond, and so we reviewed the local options with them excitedly; they ended up heading to Ghyslain (sorry Steve).  We enjoyed our food and the live music at Sheba's, Ben loved his sandwhich (John Boy's Stupid Idiot) and a taste of the pizza that Mark ordered.
We passed up Sheba's legendary brownies for the even more legendary (sorry Steve) dessert at Ghyslain just down the street, where we got the thumbs up from the couple we'd directed there earlier - their dinner was great.  I had the Brazilian, Ben had the Royale, Aaron had the Charlemagne, Thomas had some gelato, and Mark had...what did you have, Mark?  It was nice to know we impressed a guy who can get some pretty amazing desserts in New York City: "Awesome by any standard."  I don't think he was just saying that.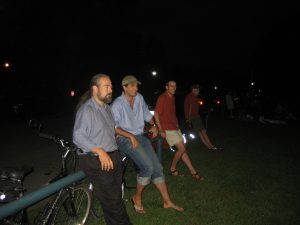 Then we biked up E street to Glen Miller Park, talking about the conversions of old industrial buildings and Richmond's place in history along the way.  ("We used to MAKE bikes here.")  We arrived to a fairly packed Roosevelt Hill watching a Beatles cover band belt out familiar tunes while people danced and cheered under the big orange moon.  It was quite a scene, and it was a great wandering summer night.
There are lots of places in the world that provide "quite a scene," but I thought that if I were coming off the highway or traveling cross country on a bike and unexpectedly got to see these little slices of life in Richmond, I'd probably remember the experience for at least a little while.  Hey, nice place we got here.
I'm a journalist, publisher, software developer and entrepreneur with experience as a founder and organizational leader.
Work with me
or learn
more about me
.