This post is more than 3 years old.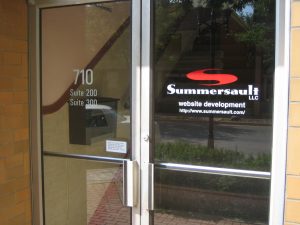 Because you come here every day looking for blogging goodness, you've probably noticed that I've been a little quiet lately on that front.  This is in no small part due to the exciting adventure that has been moving my company's main office from the location we've occupied for ~9 years at 914 East Main Street in Richmond, to our new location at 710 East Main St, Suite 200 in Richmond.
The move brings with it a great expansion into a much more flexible and usable space, a whole new outlook on the world with natural light via second story windows, and a new beginning in the life of the company.  One of the tag-lines in our marketing materials is "World Class Services Without Urban Overhead."  Well, now we have a bit more urban overhead, and I thought I'd share a few notes and reflections on the move:
Staying Downtown
As we noticed that our existing space on Main Street was feeling smaller and less of a good fit for our operations (think "cramming the new intern in the corner of a conference room because there wasn't enough desk space"), we started with the obvious question: how can we make our existing space work without moving? Given how much time and money we had invested so far, and how much we liked the location on Main Street, the thought of relocating if we didn't have to was not a fun one.  We spent time coming up with a list of wants and needs, and then re-envisioned both floors of our building as a blank slate for fulfilling those.  Unfortunately, the costs to rehabilitate a 2nd floor that pretty much hasn't been cared for since the 1950s, let alone to turn it into the ideal office layout for a modern website development business, was prohibitive for us.
So, we started putting out feelers that we were searching for a new space, and began inspecting available properties in the area - there are a LOT of cool spots hidden away all around us!  We looked all over town, but I think we knew in our hearts that we wanted to stay in the center city business district.  It was downtown's charm, accessibility, friendliness and vibrant community of small business owners that helped us decide Richmond was the place for Summersault to stay in the first place, so it felt right to continue our investment in this place as we grow (even if it meant waiting a little while to find the right space).
Eventually, through some serendipitous encounters and good fortune, we discovered the building at 708-714 East Main Street.  It's one of those structures where you really can't tell how expansive and amazing it is on the inside from looking at the outside, and we knew we were biting off a lot of building, but once we took a tour, we knew we had found the spot we wanted.
The Windows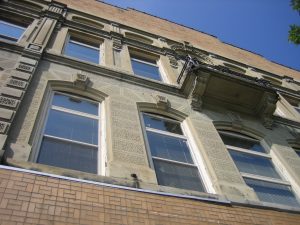 One of the first things that was clear about the new space is that the windows were going to need replacing.  On two whole floors!  The default option for everyone, of course, is to install vinyl replacement windows, but if you've read my blog, you know that I have a bit of an aversion to vinyl windows and other vinyl products, and my business partner Mark shared my interest in finding alternatives.  We, along with the help of our office manager, spent MONTHS trying to make those alternatives happen.  We got quotes for restoring the old wood and re-glazing the glass, but we couldn't justify the cost.  We got quotes for doing partial restorations and then using high quality interior storm windows, but we couldn't get past the awkward effect it would create on the interior and the not so great stories some local building owners had about their experiences with the same.  We were really intent on preserving (or at least not totally destroying) the historic facade of the building, and we really wanted to do the environmentally conscious thing.
In the end, we chose vinyl replacement windows.  Even the wood restoration people were telling us that it was going to be our best bet in terms of value.  We figure that the fact that we're shelling out significant dollars to replace the windows at all is a good thing, and that we're occupying a historic old building that will undoubtedly need much more love and care over time, in a business district that needs businesses to locate here, will help make up for any concerns that it wasn't a perfect honoring of the history.  We're working with a great local window installer - Catron's Glass - and we hope that you'll walk by when everything is all done and tell us what you think.
Making the Space Our Own
Beyond the windows, we've done and will continue to do some extensive work on the interior of the space to make it our own. Roof repairs, brick work, electrical updates, new kitchen facilities, high efficiency furnace units, network wiring and more will all make this a great space for us and the building's other occupants to use for years to come.   We had a great partner in Randy Kelly of Kelly Konstruction, who helped us make it all happen quickly and cost-effectively.
We've remained connected to the history of the space throughout the process.  The most immediate previous occupant of the space was an architectural design services firm that was also a client of ours, and so we got to see how they used it and hear about the improvements they made and the quirks that came along with it.  We've talked to John Gephart of John's Custom Framing, who used to have his studio in our space, and was standing in it when the Marting Arms sporting goods store that was just down the street exploded in 1968.  We've heard the stories from people who took dance lessons on the dance floor that currently spreads across the third floor, and how they remember walking up "all those stairs."  I've got a thick book of title information in my office tracing the history of the land back to the early 1800s, when it was the Dougan Block. And we continue to find little traces of past occupants, great plans for how the space would be used, and inspiration for how it might be used again.
Making The Move
I've really appreciated the patience and flexibility that my co-workers have shown throughout this process.  Given that we'd had naive inklings of being able to move in January or February, and here we are finishing up in August and September, it's understandable that it would be a little anxiety-inducing to wonder if and when your familiar routines and environment would change, and how.  In our usual style, we've tried to include everyone's input at every step along the way, and while some decisions about a space are not made well by committee, I think we've had a really great transition that has benefited everyone. And if you saw us rolling office chairs or file cabinets down the street, now you know why.
As staff continue to work on plans for personalizing their spaces, adding artwork to our walls, discovering new views out our magnificent windows, and getting to know this particular part of the neighborhood, I think we are all appreciating that it was well worth the discomfort and hassle that comes with this kind of transition.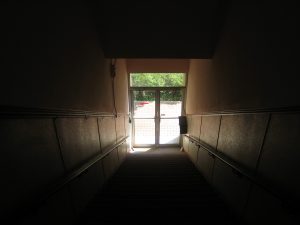 Next Steps
There's still some more work to do before we're ready for our grand opening - we've got some cleaning and unpacking to do, a few more renovations to take on, and some polish to apply.  We're also figuring out the challenges that come with making a second floor space (or at least our services) accessible to those who can't climb the 27 stairs. But rest assured we'll have a party sometime soon, and we hope you'll join us in celebrating this great new milestone in the life of Summersault website development.
Thanks to everyone at Summersault who helped make this move possible, to our clients who are quite literally the reason we can enjoy this positive change, and to our fellow community members who shared our excitement, asked how the move was coming, and encouraged us in our growth.
I'm a journalist, publisher, software developer and entrepreneur with experience as a founder and organizational leader.
Work with me
or learn
more about me
.