This post is more than 3 years old.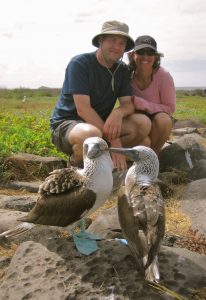 In May, Kelly and I took an amazing two and a half week trip to Ecuador and the Galapagos Islands in South America.  We spent a little time in the capital city of Quito, but otherwise we were off enjoying the jungle lodge in the cloud forest of Mindo, exploring the Galapagos on a small boat that was our home for seven nights, enjoying whitewater rafting, volcano-heated hot baths and great food in the mountain town of Banos, and checking out the sprawling and lively markets of Otavalo.
The photos and videos I've posted on Flickr capture some of the experience, and while the trip held too much adventure to describe here in great detail, I'll hit some of the highlights below.  (You can also go back and read individual posts written during the trip.)
Our trip was a nice combination of planned itinerary (primarily, the week-long stay on the boat M/Y Eric to tour around the Galapagos) and "wander around once we get there" mode.  The Lonely Planet Guide to Ecuador and the Galapagos Islands provide indispensable for the whole experience, from helping with food to lodging to cultural experiences and everything in between.  We were also visiting in advance of the heavier tourist season, so we were able to get into most any experience without advance reservation.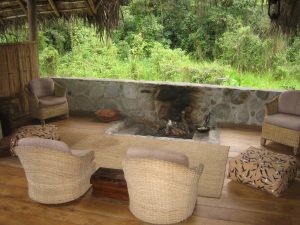 In the cloud forests of Mindo, to the northwest of Quito, we were so impressed by our stay at El Monte, a jungle lodge where we had a cabana for two nights.   Between the beautiful spot we had right on the rushing Mindo river, the amazing home-cooked meals three times a day, the beautiful main open-air lodge, and the warm and friendly staff, we were in paradise (mosquitoes notwithstanding).  We also had a chance to meet and dine with travelers from around the world, some of them on multi-month trips – it was quite fun (and okay, sometimes exhausting) to discuss politics, religion and economics with such a wide variety of global perspectives.  El Monte was created and is run by Tom and Mariella, who have worked hard to create an experienced powered by renewable resources (mostly hydro and solar) and supported by an amazing staff of cooks, guides, and hospitality coordinators.  We felt like we were among friends and well taken care of.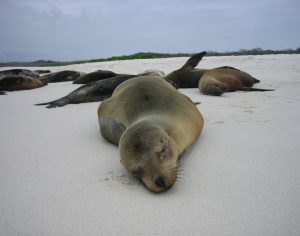 Our time in the Galapagos Islands was phenomenal.  The main theme of the encounters with the land and the animals of the islands is that they don't know any fear of humans, and so it is possible to walk right up to a sea lion, a blue footed boobie bird or an iguana and look them in the eye. And that we did, day after day.  We sunned on the beach with the magnificent families of sea lions, and then joined them in the water when it got too hot. We snorkeled around amazing coral reef with penguins, sting rays, sharks and the most beautiful varieties of fish. We hiked through lava rock formations to see iguana resting and watching, huge bright red crabs sunning, waved albatross nesting, and great blue heron quietly stalking. Pelicans swooped by just inches away, and finches (all 13 varieties) showed us their nests. We watched in awe of the giant tortoises that had been alive longer than Kelly and I combined, slowly moving around their home in search of the best grass, the coolest pond.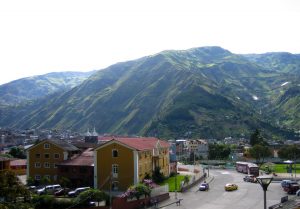 After the Galapagos, we headed south into the Andes mountains for the city of Banos, where we originally intended to stay just a night or two, and ended up soaking it in for five days.  Banos seems to be the Ecuadorian equivalent of Boulder, Colorado – an outdoorsy person's Mecca buried in the mountains, with myriad activities you can take on to pass the time.  Every block offers touring companies that will take you rafting, kayaking, canyoning, jungle tripping, go-carting, mountain biking and more.  There are trails extending up to the volcano and surrounding volcanic formations that range from steep to "are you kidding me?"   The best part is that once you're done with your outdoor adventure, this place knows how to help you relax.  There are natural baths with water heated by the volcano, massage and spa companies on every block (most professional, some not), and so many different restaurants representing cuisine from around the world, it can take an hour to decide what to eat.  I think we found a good balance of high adventure (the most intense Class IV+ whitewater rafting either of us have ever done) followed by relaxation (ask me about the spa experience sometime).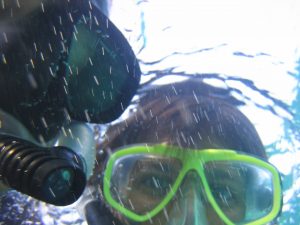 Adjusting to different forms of transportation was a source of constant excitement on this trip.  As is apparently the case with much of South America, the experience of taking a bus between cities is very common, and can be very harrowing (especially for the uninitiated tourist).  Taxis in Quito seem to top even the most white-knuckle-grip experiences I've had in cities in the U.S.  One private driver we hired was an amazing and knowledgeable personal tour guide as he deftly navigated the different terrains, while another had never been to the destination we hired him to take us to and ended up depending on us for map navigation.  The Quito airport runway is a little bit short and sits smack dab in the middle of a densely populated city, so takeoffs and landings were a little nerve-wracking.  And it turns out that I am capable of getting quite sea sick, which I found out on night #1 on our Galapagos boat in the form of an evening-long  vomiting session on the sundeck.  Things got better from there, thanks in no small part to the great care from Kelly and the crew (and Scopolamine), but there were some moments where I wasn't sure I was going to make it.  All in all, figuring out transportation was an adventure in itself.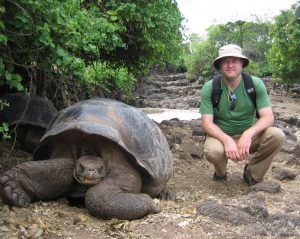 This trip was the first real international travel I'd done in more than a decade, and my first time to South America.  Despite all of my detail-oriented preparation lists and packing and figuring out finances and scattered attempts to brush up on Spanish, in the end I just dove into the experience and let it take me where it would - this almost always resulted in great joy.  It was an honor to travel with Kelly, and we took good care of each other while enjoying the company greatly.  Ecuador was a beautiful, welcoming, diverse, complicated, amazing place to visit, and the experiences we had there were perspective-bringing and life-giving.
I'll be happy to tell you more about it when I see you next.
I'm a journalist, publisher, software developer and entrepreneur with experience as a founder and organizational leader.
Work with me
or learn
more about me
.