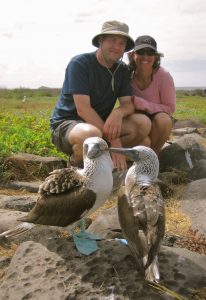 In May, Kelly and I took an amazing two and a half week trip to Ecuador and the Galapagos Islands in South America.  We spent a little time in the capital city of Quito, but otherwise we were off enjoying the jungle lodge in the cloud forest of Mindo, exploring the Galapagos on a small boat that was our home for seven nights, enjoying whitewater rafting, volcano-heated hot baths and great food in the mountain town of Banos, and checking out the sprawling and lively markets of Otavalo.
The photos and videos I've posted on Flickr capture some of the experience, and while the trip held too much adventure to describe here in great detail, I'll hit some of the highlights below.  (You can also go back and read individual posts written during the trip.)
Our trip was a nice combination of planned itinerary (primarily, the week-long stay on the boat M/Y Eric to tour around the Galapagos) and "wander around once we get there" mode.  The Lonely Planet Guide to Ecuador and the Galapagos Islands provide indispensable for the whole experience, from helping with food to lodging to cultural experiences and everything in between.  We were also visiting in advance of the heavier tourist season, so we were able to get into most any experience without advance reservation.
Continue reading "A trip to Ecuador and the Galapagos Islands" →