This post is more than 3 years old.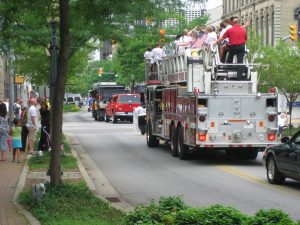 (Sometimes I wake with a start in the night and think I can hear Palladium-Item Viewpoints Editor Dale McConnaughay's voice chanting in the distance, "you must take a stand, you must enter the fray!"   It's probably because almost every editorial the newspaper has published in the last two months about the income or expenses of City government have included a not-so-subtle encouragement for current candidates for office to make that particular issue a part of our political campaigns.  Today, I'll bite.)
The Center City Development Corporation has asked that $300,000 of the $5 million in funds available through Richmond's Certified Technology Park account be used to support renewed operations of the organization and its Uptown Innovation Center facility.  The Palladium-Item covered the request today in a news article and related editorial, the latter of which painted the request as just another ask for taxpayer funded handouts to support private business efforts and essentially encourages a "no" vote by the Redevelopment Commission, the entity that approves the funding request.
It's important to note here that the $5 million in the CTP account has been sitting around for close to eight years, and that the City is coming up on its third renewal of its CTP designation without any significant use of those funds.  Those I've talked to about it have expressed some concern that if the State of Indiana, which administers the CTP program, sees this under-usage of those funds, there could be an understandable attempt to move them back under state control.  So an argument can be made for spending at least some of the funds sooner rather than later to demonstrate that we're a town with a plan.
I should also note that I've been a part of some conversations about how to use these funds, and I have even put my own proposals on the table for what might make a good partial use of them (that's a blog post for another time).  I started and have managed a high-tech business in Richmond since 1997, and we've created a number of technology jobs here, so I definitely have something to say about what might further encourage tech businesses to locate/grow in this city.  I've shared some of those thoughts in this space, e.g. Growing a Geek Culture in Richmond.
Is allocating $300K to Center City the best and highest use of the funds?
Maybe, maybe not.  I haven't seen the details of the request.  I know that Beth Fields and Jason Whitney, co-Executive Directors of the organization, and board chair Rhett Baumgartner are three people who are deeply, personally invested in the health and well-being of this community, and that they wouldn't attach their names to this request if they didn't believe it to be a viable, impactful way to use the money.
The money can't be used for just anything, as the CTP program requires that it go to support "the attraction and growth of high-technology business in Indiana and promote technology transfer opportunities."   Questions in the paper about the necessity of proposed fund usage will surely be answered by the detailed organizational budget already submitted to the Redevelopment Commission.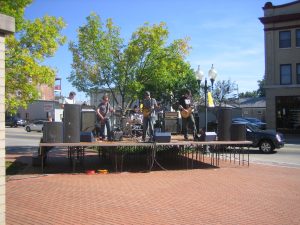 As already noted, in the absence of other formal requests to allocate the funds to a given project, this is a relatively small slice of that pie that could be used to move something forward with long-term implications.  We say as a community that we want new and exciting opportunities to be taken on that spark growth and encourage further investment in the community.  We have to embrace the fact that these efforts require non-trivial investment and risk to get going, and the CTP designation was created for just that purpose - investing in new and exciting things that will lead to job creation and community building.
As a small business owner eagerly trying to find qualified technology workers to add to our staff, and as someone who has invested heavily in the success of the downtown business district, it's encouraging to think of a renewed, well-funded Center City organization focused on exactly those things.  There's a pool of money that's been made available for just this purpose and that might go away if unused, and now someone is saying they're willing to put it to good use.
As a community, we (as represented by the Redevelopment Commission) should ask good questions of the proposal and probe the details, but we should be very careful about saying "no" to people who are investing in moving the community forward.
Updated at 2:53 PM to include link to Pal-Item editorial, now available online.
I'm a journalist, publisher, software developer and entrepreneur with experience as a founder and organizational leader.
Work with me
or learn
more about me
.