This post is more than 3 years old.
I wrote earlier that The Roost Laptop Stand is a part of my daily carry when I'm working away from home. I've been using it since 2014 when I started working regularly from co-working spaces, coffee shops and other places. For the last few months I've been using the second generation of The Roost Stand, so I want to share a few more thoughts on it here.
(Disclaimer: the Roost team sent me a free stand after they saw the Lifehacker post featuring my bag contents. I am not being compensated for this review and am under no obligation to provide positive commentary or any commentary at all.)
In case you're not familiar with what the Roost stand is or does: it elevates your laptop screen to the height at which you might use a traditional computer monitor. This means that long periods of time staring at a screen don't necessarily lead to a sore neck or back from being hunched over. Here's what it looks like in use: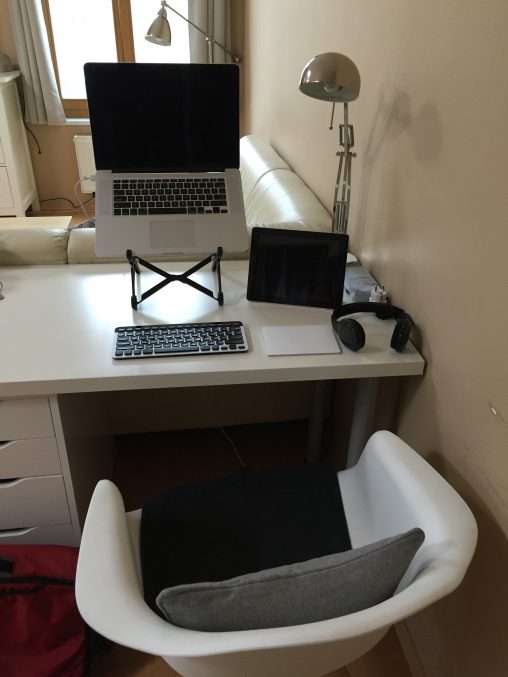 It might seem like a lot of hardware just to raise the screen up by a few inches, but I have found that it makes a world of difference in my comfort.
The Roost itself is a very lightweight, very portable little piece of equipment. The second generation version comes in at less than half a pound even with its included carrying case on. But it's also very well built and sturdy, resisting any kind of bending or breaking in all configurations. (You can read the full technical specs here.)
Because the Roost makes your keyboard and mouse/trackpad mostly inaccessible, having a standalone keyboard and mouse are a must. I use the Logitech K811 Bluetooth Keyboard and either the Logitech T631 Ultrathin Mouse or the Apple Magic Trackpad (the latter when I'm working away from home for longer periods of time). In the photo above, my current traveling office set up, you'll note that I also sometimes make use of an iPad as a second screen, using AirDisplay.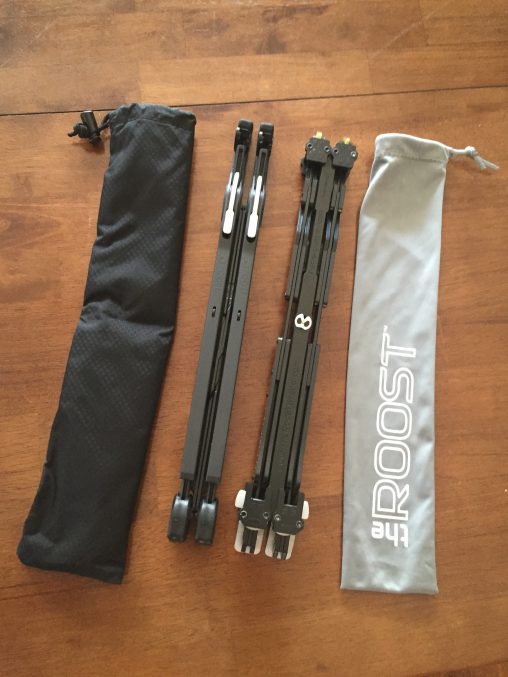 The second generation Roost is a noticeable improvement over the first, mainly in appearance and ease of use. (The new version is the one on the left in this side-by-side photo.) It feels slightly less like a wacky Kickstarter project (which is an impressive success story in itself) and more like a product designed for everyday users. I still get curious looks when I open it up in a coffee shop where people aren't used to such things, but the looks convey less "omg is he about to make a scene" and more "I wonder what that is."
There are a couple of other things I like about the new version of the Roost:
The mechanism for supporting the laptop's weight is much sturdier. It grips the front edge of the laptop base and then lets the rest of the weight lean against the upper stand supports. The previous version required inserting small plastic tabs between the laptop base and screen hinge, and I always felt like I was one slip or accidental screen closing away from my laptop having a fall.
The process of opening the stand is more smooth and intuitive, a simple pulling motion. With the earlier version it always seemed like several steps of twisting and rotating.
The stand height is adjustable.
There are fewer parts that seem vulnerable to sticking out and breaking off when the stand is packed in my bag.
Given all of this and what I've experienced in the last couple of months using the new version, I can't say that I have any suggestions for improvement that would merit a third generation Roost product. If I ever have any hesitation at all about using the Roost it's because I'm traveling super light, or feeling introverted enough to not want people staring at me while I work or asking what the heck that thing is. But if I ever want a conversation starter, the Roost is a good one.
If you're someone who spends long hours in front of a screen in places where you don't have a more proper, ergonomically configured desk, The Roost Laptop Stand is an awesome piece of gear to keep you comfortable and productive. You can purchase it from Roost directly or on Amazon.com.
I'm a journalist, publisher, software developer and entrepreneur with experience as a founder and organizational leader.
Work with me
or learn
more about me
.