This post is more than 3 years old.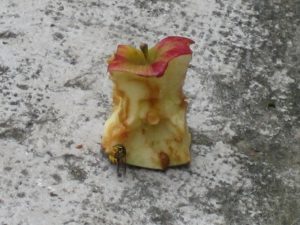 This rant may eventually turn into a podcast segment, but I haven't had time for that and I can't wait any longer. The news has been all the buzz lately: Only 54% of Richmond Community Schools students graduated in 2006, putting us in the bottom 7% of Indiana high schools. There's the commentary on the school system's reaction, great thoughts on what to do and how the community can be more involved. And I'm sure some good things will come out of all of the discussion that is being generated.
But the bottom line for me is that that our system of education in the US is almost entirely broken, ill-conceived in the first place, and that calls to make incremental improvements to a broken system feel largely like a waste of time.
Old minds think "how do we stop these bad things from happening?" New minds think "how do we make things the way we want them to be?" If education in the city of Richmond, the state of Indiana, and the U.S. is to be improved or fixed, it will be with new minds, not new programs put in place by old minds.

A hundred and fifty years ago, when the United States was still a largely agrarian society, there was no reason to keep young people off the job market past the age of eight or ten, and it was not uncommon for children to leave school at that age. Only a small minority went on to college to study for the professions. With increasing urbanization and industrialization, however, this began to change. By the end of the nineteenth century, eight years of schooling were becoming the rule rather than the exception. As urbanization and industrialization continued to accelerate through the 1920s and 1930s, twelve years of schooling became the rule. After World War Two, dropping out of school before the end of twelve years began to be strongly discouraged, and it was put about that an additional four years of college should no longer be considered something only for the elite.
It seems like urbanization and industrialization would have the opposite effect - that the system would be trying to put kids ON the job market. But imagine what would happen today if educators suddenly decided that a high-school education was no longer needed. There would suddenly be tens of millions of kids out there competing for jobs that don't exist. The unemployment rate would go through the roof.
It would be catastrophic. It's not only essential to keep fourteen-to-eighteen-year-olds off the job market, it's also essential to keep them at home as non-wage-earning consumers. This age group pulls an enormous amount of money - hundreds of billions of dollars per year -- out of their parents` pockets to be spent on books, clothes, games, novelties, music, and similar things that are designed specifically for them and no one else. Many enormous industries depend on teenage consumers. If these teenagers were suddenly expected to be wage earners and no longer at liberty to pull billions of dollars from their parents` pockets, these youth-oriented industries would vanish overnight, pitching more millions out onto the job market.
We all know that most of the modern education system forces students to spend many years of their lives learning things they instantly forget once they've passed the tests. People don't remember things they have no use for. So why do we force our kids to go through this exercise? Because we have to give them something to do during the years they're being kept off the job market. And it has to look good, like it really matters.
What do people think about the failure of schools? They think the schools are incompetent and underfunded, and that kids are lazy. What stories do we tell ourselves about what the schools would do if they had more money? They could get better teachers and pay teachers more, and more money would inspire teachers to do a better job. The lazy kids? More money would be spent buying new gadgets and better books and prettier wallpaper, and the kids wouldn't be as lazy as before. And so these new and improved schools would turn out new and improved graduates.
But what happens when these new and improved graduates arrive in the workforce and start competing for jobs that the rest of us are trying to hold onto? The answer shows us why schools do such a poor job of preparing graduates for the workplace (or graduating students at all): they're doing what we actually want them to do.
People imagine that we want to see our children enter the workplace with really useful business skills, but if they actually did so, they'd immediately begin competing for jobs with their older siblings and their parents, which would be catastrophic. And if graduates came out of school with advanced skills, who would bag the groceries? Who would do the sweeping up? Who would do the filing?
Instead, we produce workers who have no choice but to enter our economic system, presorted into various grades. High-school graduates are generally destined for blue-collar jobs. They may be intelligent and talented as college graduates, but they haven't demonstrated this by surviving a further four years of studies (that are generally no more useful in life than the previous twelve years). Nonetheless, a college degree wins admittance to white-collar jobs that are generally off-limits to high school graduates.
What blue-collar and white-collar workers actually retain of their schooling doesn't much matter, in either their working lives or their private lives. Very, very few of them will every be called upon to divide one fractional number by another, parse a sentence, dissect a frog, critique a poem, prove a theorem, discuss the economic policies of Jean-Baptiste Colbert, define the difference between Spenserian and Shakespearean sonnets, describe how a bill passes Congress, or explain why the oceans bulge on opposite sides of the world under the influence of tidal forces. Thus, if they graduate without being to do these things, it really doesn't matter in the slightest. Postgraduate work is obviously different. Doctors, lawyers, scientists, scholars and so on actually have to use in real life what they learn in graduate school, so for this small percentage of the population schooling actually does something besides keep them off the job market.
The deception here is that schools exist to serve the needs of people, not the needs of our children. They exist to serve the needs of our economy. The schools turn out graduates who can't live without jobs but who have no job skills, and this suits our economic needs perfect. What we're seeing at work in our schools isn't a system defect, it's a system requirement, and they meet that requirement with close to one hundred percent efficiency.
In grades K through three, most children master the skills that citizens need in order to get along in our culture - reading writing and arithmetic. These are skills that, even at age seven and eight, children actually use and enjoy using. Millions of years of natural selection have produced human creatures who are born with a ravenous desire to learn anything and everything their parents know and who are capable of feats of learning whose boundaries are literally beyond imagination. Toddlers growing up in a household in which four languages are spoken will learn those four languages flawlessly and effortless in a matter of months. Kids will learn anything they want to learn, anything they have a use for. To make them learn things they don't have a use for, you have to send them to school. That's why we need schools - to force kids to learn things they have no use for, which in fact they do not learn.
Our schools have been failing for many decades. What do you call a system that's built on the presumption that people in this system will be better than people have ever been? Everyone in this new and improved system is going to be kind and generous and considerate and selfless and obedient and compassionate and peaceable, and THEN we'll beat those low graduation rates? What kind of system is that? Utopian.
Old minds think "how do we stop these bad things from happening?" New minds think "how do we make things the way we want them to be?" If education in the city of Richmond, the state of Indiana, and the U.S. is to be fixed, it will be with new minds who want to create a mode of education that truly serves the kids we are educating, not us and our economic systems.
(Many of the concepts and phrases in the above rant are quotes or paraphrases from Daniel Quinn's book My Ishmael, and I have merely transcribed them here in a format relevant to the local news. Still, I take responsibility for any interpretations or mutations made.)
I'm a journalist, publisher, software developer and entrepreneur with experience as a founder and organizational leader.
Work with me
or learn
more about me
.