This post is more than 3 years old.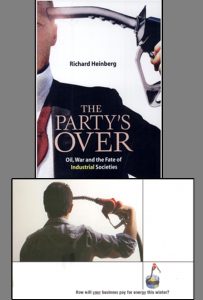 I've blogged before about turning points in awareness of the issues that we face with regard to "the environment" and the energy crisis. Today I received a postcard in the mail with a photo of a man holding a gasoline pump nozzle up to his head, in an image that unavoidably evokes a suicide act in progress for most Westerners.
I, having met Richard Heinberg and read his book The Party's Over: Oil, War and the Fate of Industrial Societies, of course presumed it was something related to addressing the impact of the end of abundant, cheap oil. The cover has a very similar image that complements the book's exploration of our relationship to oil. But when I visited the website that the postcard mysteriously directed me to, I found that it was an ad for...a credit card company. Their solution to the energy crisis? Gas credits when you make lots of charges on your card. You know we've reached a new level (high or low, I can't say) of public attention to the state of affairs when credit card companies think they can make a few dollars off of people who are worried about our dependence on oil.
If you're interested in a more effective approach than "going into debt for Mother Earth," you could join me at the upcoming Fourth Annual Conference on Peak Oil and Community Solutions, in Yellow Springs, Ohio, where Heinberg will be speaking. It's always a smashing good time, grounded in an accessible exploration of real community-based solutions.
I'm a journalist, publisher, software developer and entrepreneur with experience as a founder and organizational leader.
Work with me
or learn
more about me
.