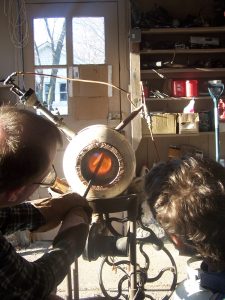 I think one of the more dangerous ideas prevalent in our culture is that "you can't do it yourself, so you always need to buy something or pay someone to do it for you." As our society becomes more and more dependent on complex machines, systems and skill-sets that fewer and fewer people understand, individuals become less and less equipped to have any real control over their livelihood. When those who do have the control and power aren't available or have different priorities or cost too much...well, things can get bad.
I had a moment of awakening about this a number of years ago when I was sitting in a local hair stylist's chair having my hair cut. On my recent visits I had been observing the process more closely than prior haircuts in my life, and partly out of resentment for the $15 I was paying per 10-minute haircut, partly out of an engineer's curiosity, I starting asking questions about where her equipment came from. Together we concluded that she was using a trimmer I could get at a local store for about $20, and therefore that the main value she brought to the process was the ability to see the whole of my head to trim it when I could not. Ah-ha.

So, I went out and bought my trimming set, and then went home to design a mirror rigging system that would allow me to see all of my hair at once, and a guide system that would prevent me from making my rear neck hairline too short or uneven. I started cutting my hair at home after that, and apart from a few special cases, haven't paid for a haircut since. This has been a good thing, but for some reason, it was a difficult leap to decide that I could do it myself. After all, I'd always had my hair cut by someone else - why would it work any other way?
I think we are pretty heavily conditioned to avoid such leaps. Our consumerist-driven world loves that we've outsourced so many basic functions of day-to-day life to its storefronts, and it doesn't want us to go back to the "do it yourself" mentality that drove so much innovation and self-sufficiency in past versions of humanity. In fact, the modern world requires that things break frequently, and that we pick up the phone and the credit card at the first sign that they might be breaking. It requires that we know little to nothing about where our food comes from, and that we pay outrageous prices for produce that can be grown for significantly less on our own. This culture requires that we forget how to make or repair or even operate the basic tools we use every day, because then we are dependent on the people and power structures that do have control over that knowledge, and we pay them to make the world right again. It doesn't mind reinforcing our fears, either: what if we try to do it ourselves and it doesn't work? What if we get lost? What if we can't defend ourselves or our family against a terrorist? Surely we're not qualified? Surely we don't have the right tools? What if we don't have the right standard of living? What if...?
The haircut example is perhaps a pretty benign one. (For those patrons who required more than the uniform trimming, the stylist did provide a needed sense of style and, because that took longer than 10 minutes, a kind of relationship that is probably pretty far from exploitative.) But with that milestone of self-cutting independence under my belt, I was set on a course toward some other kinds of self-sufficiency that I perhaps hadn't imagined possible before.
For a time shortly thereafter, I lived on a small organic farm and had a daily participation in planting, growing and harvesting much more of the food that I ate. I made contact with the land that helped to feed me, and listened to what it had to say, and tried to do what it asked. I learned to cook, and to cook with the harvest that was available, instead of just what was convenient or cheap. I learned to store food, to make it last. In time, I felt much less clueless about how to sustain myself, less dependent on a grocery store for this basic daily need of food.
Every time I've had to hire someone to do some repair work for me, I've watched closely, asked them about what they were doing, and then gone out to read about it and learn more. The result has been that I'm much more bold about taking on home improvement projects that I would have previously been too intimidated to even think about. I've now installed light fixtures, replaced kitchen faucets, repaired walls, hung shelves, painted entire rooms, installed a trailer hitch on my car, flown a small plane, wired up telephone and Internet networks, run coaxial cable, and so many other things that I wish I'd learned about a long time ago.
Of course, doing it yourself doesn't always mean doing it alone. All of my above adventures were accelerated greatly (and sometimes enabled entirely) by the knowledge of others, not to mention by some social and economic privilege. None of us can be specialists or knowledgeable in every area needed for survival or comfort, so there are great benefits that come from living in community where we distribute those responsibilities, and from being able to learn from others. If Alice is the community metal-smith, then maybe she doesn't have to worry about being a good cook because Jake has dinner taken care of (as long as Alice sharpens his good kitchen knife when it dulls).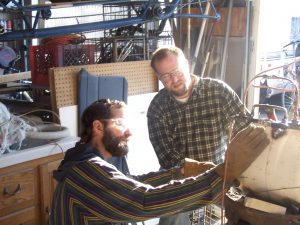 Recently a friend began teaching me a bit about forging metal, and while it may not be a calling for me to be the community metal-smith, it was one of those experiences that showed me what was possible for the first time, and I went home and looked at my kitchen knives with a whole new sense of awe. Running coax cable is great to know, but it's these more base skills that interest me now; forging tools, learning more about four-season gardening, finding out how not just to survive in the "elements," but to thrive in them. These skills feel real, globally applicable, like they'll be useful no matter what.
There are still plenty of things that I don't take on myself. I don't change the oil in my car. I don't perform surgery on myself, even with my mirror rigging system. I don't make soy milk (though I do have a tofu-maker raring to go in the basement). This week alone, I've paid a substantial amount of money to have someone else tell me how much I still owe the IRS for the Iraq war effort, and I'm about to pay an only slightly less substantial amount to someone who knows how to repair a refrigerator that's got all sorts of problems. I hope it doesn't sound too strange that I have zero interest in being able to do my taxes (made immensely complex by my ownership of businesses, "thanks!" says the global economy), but I was watching that appliance repairman like a hawk as he put on the bullet piercing valves so he could attach his pressure gauge, wondering where I could get one of those myself for next time.
What are the things you want to better learn to do for yourself? What are the things you can't imagine doing yourself? What parts of your life depend on complexity that is beyond your reach? What parts of your life would benefit from a community that fills in the gaps?
I'm a journalist, publisher, software developer and entrepreneur with experience as a founder and organizational leader.
Work with me
or learn
more about me
.