This post is more than 3 years old.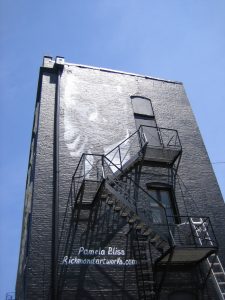 When you hang around with Jim Hair, you sometimes find yourself thrust into the middle of interesting artistic and cultural experiences you hadn't planned on. That happened today, when he suggested I be an interview subject in a news segment produced by NewsLink Indiana out of Muncie about the forthcoming party to celebrate the new Hoagy Carmichael mural that's gone up in downtown Richmond. And so I was, and you can see the resulting video and news story on the NewsLink Indiana website. The piece is apparently just a promo for a longer news piece they'll produce on Saturday, so my sound bite is notably short and unsubstantial. But at least they didn't include the part where the interviewer cleverly asked me how much I know about Hoagy Carmichael, and I had very little to say in response (I think she was on to me), but that also means they left out my brilliant musings on the harm of homogenous community landscapes and the importance of creating vibrant destinations with this kind of cultural and artistic work. Sigh.
You can view other coverage of the mural: Palladium-Item article, Flickr photos, YouTube videos, and so on. Congratulations to all of the people who worked hard to make the mural happen, and certainly to Jim for bringing everyone to the table, er, canvas.
I'm a journalist, publisher, software developer and entrepreneur with experience as a founder and organizational leader.
Work with me
or learn
more about me
.