This post is more than 3 years old.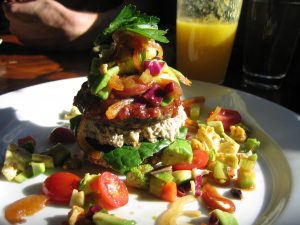 Two years ago about this time I blogged about my resolution to give up soft drinks, which I'm glad to say I've successfully continued for a second bonus year, despite it having no noticeable positive effect on my health while making me an outcast at all of those cola-centered social gatherings. And despite the bottles of Dr. Pepper that people sometimes leave sitting around me, sometimes even in my own fridge.  But I digress.
For now I'll skip over last year's resolution - which failed miserably - and bring you to my 2009 resolution, which is to eat less meat. Specifically, I'm trying to eat meat at no more than two meals per week. This is a revised plan of attack from past attempts to try an all-vegetarian diet, which I eventually decided wasn't tenable for me.
Without getting too far into the food ethics involved in meat-eating (which are nonetheless important and deserving of further treatment), I thought I'd note why I'm doing this, and how it's going so far:
I'm eating less meat because:
There are myriad statistics and resources showing that eating less factory-farmed meat is a good thing for my body, and for reducing the harm I cause to the planet and the life on it. Since most of the meat I have convenient access to is factory-farmed, I should eat less of it until I can change that reality.
I don't want to give up all meat. I don't want to practice "kingdomism," and I recognize that having some meat as a part of my diet is important to me for a variety of reasons. I also didn't want to take an approach that puts friends and family in an uncomfortable position when they're cooking for me, or that precludes me from eating meat that was brought to the table in an ethical, humane way. (I fully realize that there are plenty who say there is no way to humanely eat the meat of other beings, or that the discomfort of the cook is far outweighed by the discomfort of the animal being eaten.)
How's it going after a month? Well, mostly so far so good, but definitely with some complexities:
Handling leftovers remains an interesting point of debate. If I eat at a restaurant and have meat at a meal there, and end up having leftovers, does it "count" as one of my two meals to eat those leftovers the next day? I think it's mostly about intent - if I make a batch of meat-filled lasagna that lasts me all week, that's definitely a major violation, but if I happen to have some leftovers, it seems within the spirit of the resolution to give myself some leeway, right?
Despite eating almost no meat at home, I'm still not conditioned to hone in on the meatless dishes in some settings. I was at a catered event last week where I got a bowl of soup that looked vegetarian, and only found after I was eating it that it had meat in it...should've asked. At a Chinese buffet I found myself mindlessly putting a dish with meat in it on my plate as I'd done in the past, even though I'd fully intended to not eat meat there. So there's definitely some mental adjusting still to be done, all worthwhile I'm sure.
Vegetarians everywhere will roll their eyes at how obvious this is, but of course the whole experience is reminding me how hard it is to go against any given cultural norm when you're in the minority, e.g. trying to avoid meat in a town that has more steakhouses than grocery stores, and where saying you're vegetarian still prompts the question, "but you eat chicken, right?"
To be clear, I'm not at all prescribing vegetarianism or any particular diet as the right or wrong thing for anyone else, I'm just talking about what's right for me.
As Jim C. noted two years ago, I have to be careful of "quitter's righteousness" here, and not let a month of relative success go to my head. That's partly why I'm blogging about it - if you dine with me or see me on the street, feel free to ask "how's that meat twice a week thing going?"  I will hopefully give you the thumbs up sign, but I also might pretend I didn't hear you and avoid eye contact.
If anything, this resolution is helping me to balance an increased attentiveness to what I eat (and the health/environment/social implications of that) with a desire to remain a little more flexible than quitting cold-tofurkey, and to try a personal change of habit that's not so dramatic I can't sustain it.
I'll keep you posted.
I'm a journalist, publisher, software developer and entrepreneur with experience as a founder and organizational leader.
Work with me
or learn
more about me
.