This post is more than 3 years old.
Lierre Keith's The Vegetarian Myth is one of the most important books ever written about food and the sustainability of the human species. It is at once deeply personal, overwhelmingly provocative, and academically sound as it calls into question all of the stories we have ever been told about where food comes from, what kind of food we should eat (especially in the context of veganism and vegetarianism), and what impact our food choices make on our bodies and the world around us.  And that's just the core themes; Keith deftly weaves together food politics with economics, religion, culture, misogyny, masculinity, feminism, media issues, peak oil, liberalism vs radicalism, and so much more.
In short, if you think about what you eat, how it got to you, and the issues of nutrition, morality, politics and spirituality come with it, it is paramount that you encounter what The Vegetarian Myth has to offer.
My full review continues:
Keith's central point is that in order for you to live, something else has to die.  While it may seem like a simple enough statement, it may become pretty controversial pretty quickly, especially if you've tried to build your diet (or any part of your life, for that matter) around the avoidance of killing other creatures for food or otherwise.  She essentially says that not only are the practices of vegetarians and vegans misguided in their effort to help us lead a more sustainable and just life, they actually often propagate a harmful cultural story about food and the relationship we have to it.  By necessity, I won't even try to support those statements in this review, as the whole substance of the book is about doing that meticulously; please don't ask me to summarize her thinking for you.
Given how much being a veg*n becomes a matter of identity for so many, Keith acknowledges right off that these assertions are painful ones to make, let alone to hear and receive.  The potentially biting nature of her premise can only be alleviated by her willingness to explore it so thoroughly and sympathetically, and to share about the close relationship she has to the subject matter.   She tells her personal story of being a long-time vegan, and how she journeyed from an approach to diet that inherently required malnutrition and delusion to one that led to health and awakening.  She knows what's it's like to question the foundation of the choices we make about food because she's been doing it rigorously and relentlessly for much of her life:
I know what you want to be true, vegetarians.  You want to open the circle of concern to everything sentient.  With all your hearts, you want us humans to be meant for cellulose or seeds or berries or anything that you believe can't feel pain.  And I'm telling you the truth: it doesn't work.  What you are made of -- bones, blood, brain, heart -- needs animals.  This is not the universe you wanted.  But it's the way the world, always alive and always hungry, works.  You can try to live on those other things -- the cellulose you can't digest, the seeds that fight back, the berries and their sugar.  If you're like me, you'll do it until you're half dead.  If you're smarter than me, you'll learn.  You want to open that circle, but in fact there's no way out of it. We're all of us, seeded and feathered, rooted and furred, already in it.   (p. 243)
Despite her empathy, Keith is still ruthless in her exploration of modern thinking on food.  She tackles, chapter by chapter, all the reasons that one might have for being a vegetarian or vegan: moral, political, nutritional.  She turns the writing of food scholars like Peter Singer, Frances Moore Lappe and Jim Merkel on its head, calling out the flaws in the thinking and research that is so often held up to support commonly held viewpoints around veg*n lifestyles.  She does make extensive use of other recently trending writings by authors like Michael Pollan, whose books The Omnivore's Dilema, The Botany of Desire, and In Defense of Food provide a great conceptual framework for Keith's particular messages.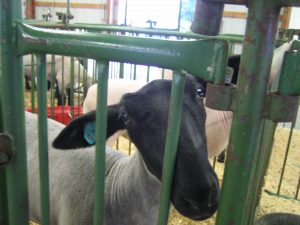 Of course, the question that naturally arises when one encounters material "attacking" a given approach to make the world a better place is "well, what does she suggest we do instead?"  It's important to note that Keith is not at all suggesting we stand down from the calls issued by the veg*n communities and many other kinds of concerned citizens about stopping the horrors of CAFOs and industrial agriculture, and the book is not just a permission slip to eat meat without consideration of how it came to be dead on your plate.  To the contrary, she asserts that she wants an even more full accounting of our thinking about food production and the values, morals and assumptions that are behind it - an accounting that goes beyond turning to soy, or raw foodism, or other kinds of well-intentioned alternatives to a carnivorous diet.  As she notes in her concluding chapter, Keith doesn't just want an alternative to mainstream thinking on food, she wants us to build a new approach that is self-consciously opposed to the dominator culture that fuels that thinking.
Despite my request above to avoid trying to summarize Keith's work, I will provide a few of the questions she suggest you ask in considering what you eat (p. 248):
Does this food build or destroy topsoil?
Does it use only ambient sun and rainfall, or does it require fossil soil, fossil fuel, fossil water, and drained wetlands, damaged rivers?
Could you walk to where it grows, or does it come to you on a path slick with petroleum?
She also offers three strong recommendations for those interested in personal solutions:
Refrain from having children
Stop driving a car
Grow your own food
(I list these here in hopes that they make you want to understand more about why those questions and recommendations are relevant; again, please don't take them out of the context of the larger book, or ask me to defend them here.)
If I can offer any criticism of The Vegetarian Myth at all, it's that the book is so dense with information, and Keith often takes such a significant amount of time to make a point from multiple perspectives and with multiple supporting arguments, facts, etc. that it almost becomes overwhelming.  I fully understand the necessity of this approach given the resistance her arguments are sure to encounter, but it makes the book unsuitable as a starting point or introduction to these issues for someone who is not already exploring them in some form, or for whom there isn't already some deep cracks in their own previously solid thinking about their veg*n lifestyle.  (In fact, I'm sure many vegetarians and vegans will be insulted by her statements and find her condescending, despite her great care to note, "hey, I was just like you once.")  I don't think Keith intends the book as said introduction, so maybe that's just a fair warning to readers of this review, instead of anything wrong with her text.  But, at the risk of over-simplifying what is definitely not a simple topic, perhaps a future project could include a version of Keith's book that can get the core assertions and arguments across in a shorter form, with pointers back to the full book and related resources for those wanting to know more.
For me personally, The Vegetarian Myth was a great unpacking of a phrase that I heard Daniel Quinn use many years ago to describe the practice of those who choose not to eat meat: "Kingdomism."  In other words, discriminating against one kingdom of beings in the taxonomy of life in favor of another.  Lierre Keith does an excellent job of making the case that by practicing such discrimination, we deprive ourselves of and disconnect ourselves from the cycles of life in which we were designed to participate.  Some of the ideas were not new to me, but I'm still figuring out what this means for my own diet and food politics, as it was just this past January that I started trying to eat less meat, a project that has withered as I've turned the pages of this book.  And as with every experience that transforms our thinking, I'm left somewhat disoriented and full of questions, but also set on a new and exciting path of exploration and challenge.  As Keith kindly inscribed in my copy of The Vegetarian Myth, "First the Fight and then the Feast."
(I linked to the Amazon.com product page for the book above, but if you buy it from Lierre Keith directly, she gets the most compensation, and you have the opportunity for a personalized inscription too!  If you're in Richmond, you're welcome to borrow my copy.  You can read the first 14 pages of the book online.)
Updated, from the comments: I should add that I find this book important and useful because of the important questions it raises and the challenges it offers, not because I can personally endorse every conclusion made. By no means have I followed all the primary research, and there are certainly people out there who offer the possibility that much of it is incorrect or misleading.  -Chris
Updated 8/3: In a private e-mail exchange after this review appeared, Keith noted that "many reviewers are focusing on my suggested personal actions, when I tried to be so clear that there are NO personal solutions. What we need is a serious political resistance movement--that's the *only* solution. We need huge institutional change, and have been sold a useless bill of goods by both corporate America and liberalism as to the efficacy of personal consumer and lifestyle choices."
I'm a journalist, publisher, software developer and entrepreneur with experience as a founder and organizational leader.
Work with me
or learn
more about me
.