(Please note, because of the time that has passed since I wrote this article, it may no longer reflect my current views or the most accurate and complete information available on this subject.)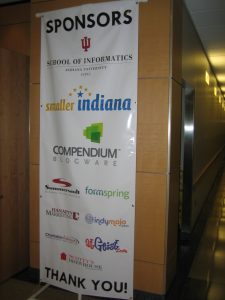 Last summer, two generally swell guys in Indianapolis, Noah Coffey and Shawn Plew, decided to put together a conference for people in the area interested in blogging and social media, and it went quite well for a first-time effort - you can read my full reflections on Blog Indiana 2008 in a previous post.  (I believe it also marked the beginning of my Twitter usage - gasp.)
The dynamic duo have teamed up to do it again for Blog Indiana 2009, which starts later this week.  It looks to be an expanded and amplified version of the inaugural event - the conference will span three days with multiple tracks - blogging and social media, higher education, non-profit, etc. - and it sounds like there will be a lot more people there too (with great representation from Richmond).  Summersault has returned as an event sponsor, and I'm also presenting again, this time with a session on "Using Social Media for Real-World Community Improvement" and as a panelist in a session about "technology."
I've apparently also been nominated for the award of "Best Hoosier Blogger" in the "2009 Blindy Awards," and while I'm not saying that I will give you significant amounts of cash just because you click on this link and vote for me, I'm not saying I won't do that either.
I'm looking forward to gathering with fellow bloggers and fans of technology, and sharing about how these tools can help us make life a little better for everyone.  I hope to see some of you there!