This post is more than 3 years old.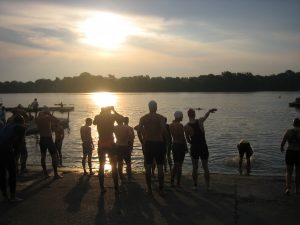 A few weeks ago I was asked to talk with some folks at the Wayne County Area Chamber of Commerce about Summersault's past, present and future, and I enjoyed the conversation and questions very much.  One really good question that came out of the meeting was "how can Richmond better encourage, nurture, cater to technology professionals like the ones working at Summersault?"  I'll simplify that question to be "How can we grow a better geek culture in Richmond?"
It's something that I think about a lot (especially when we're trying to hire someone), but I didn't have a ready answer - partly because there is no simple answer, but partly because I hadn't really ever taken the time to write one down.  Below is a list of ideas and comments, in no particular order, that came out when I put the question to the wider Summersault staff.  I hope that you'll contribute your own thoughts and suggestions, and I'll pass the list back to the Chamber and anyone else I can find who might be in a position to work on some of these things.
If there were more resources and locations in town that catered to the "do it yourself" computer builder/hacker, we might see an increase in people building up their own skill sets.  Opening a Freegeek location here would be a great start.
We need more social venues and public spaces that aren't "the bar scene."  Coffee shops with free wireless access and decor/atmosphere appealing to the 20s/30s crowd are usually ideal.
Technology toys are a luxury, and consumption of them is probably not going to flourish in Richmond right now, especially in a depressed economy.  But, there are a small population of people with dollars to spend on high tech stuff.
Some of the existing computer hardware businesses in town are geared toward fixing broken computers, instead of getting people excited about what's possible with technology, or catering to "gadget lust."   If a computer business could provide an experience more like what you get when you walk into an Apple Store (technology is fun/cool/interesting, not hard/frustrating), they might serve as a better gathering place or hub for local geeks.
Perhaps obviously, more technology-oriented businesses in town will yield a larger number of people, conversations, potential hires, skill-sets, etc.   Having more diverse businesses here in general adds to the appeal of Richmond, and allows geeks to find what they want locally without leaving for Dayton, Cincinnati, Indianapolis.
There's a strong crossover for geeks with bike culture and people generally interested in alternative transportation.  Other hobbies that have a "do it yourself" quality to them are generally found thriving within geek culture, so promoting those (especially cycling) could help.
We need more opportunities for conversation and networking among geeks and people interested in technology.  Whether it's classes or seminars or informal meals, tech people need low-pressure ways to gather. We noted that environment at events hosted by the "Young Adult Professionals" is generally not friendly to introverted geek types.
Younger children need to be encouraged to share and learn about any interest they might have in technology, and given opportunities to really explore it.
Local higher education institutions need to do a better job of incorporating the "Linux culture" into their programs.  A number of local technology businesses (including Summersault) have trouble finding qualified candidates for our technical positions because the local educational offerings are geared toward an entirely different paradigm.
Richmond sometimes needs more "presentable" spokespeople for different parts of its geek culture.  Sometimes the awkwardness and relaxed attire and unique personal hygiene standards that come with being a geek are not conducive to effective public relations and messaging.
Richmond needs to generally be more open to a culture of subcultures - it's okay for people to  have hobbies, interested, specializations that don't fit into some single notion of the "mainstream" way of life here.  We should support and encourage that, not alienate it.
The creative arts are a huge part of encouraging a strong geek culture - when there are artistic endeavors like theater, music-making, film-making, etc. going on in a community, geeks have more opportunities to thrive.
When I asked our group a more direct question about specific actions that an entity like the Chamber of Commerce could take to support geek culture here, we came up with a few ideas:
Fund a grant for expanding the existing Hardware Cooperative into a Freegeek location.
Provide sponsorship for events and gatherings geared toward geeks, but let some geeks organize it.
Work toward having reliable wireless internet access across the city
Include the geek demographic as a target in the marketing that you do for your organization and the city as a whole.
That was the result of our initial brainstorm.  What do you think it means to grow a geek culture in Richmond (or in your own community)?
I'm a journalist, publisher, software developer and entrepreneur with experience as a founder and organizational leader.
Work with me
or learn
more about me
.