This post is more than 3 years old.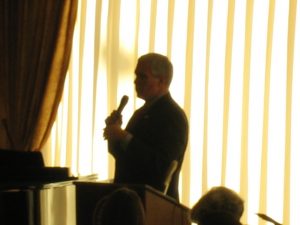 The "Town Hall meeting" with Congressman Mike Pence this morning at the Leland Residence was fairly well attended (compared to similar such events, not as a function of the district's population) and interesting, I thought. Pence talked about his recent decision not to join the congressional leadership so that he could continue to pursue his ideals and issues (limited government, strong defense, "traditional moral values," etc.), about his two major concerns for the year (deficit reduction and border security) and the "War on Terror." The questions covered giving greater access to passports, whether every child in the country has the right to have healthcare, health insurance costs for small business and how we could change our culture and insurance system, energy concerns and drilling in the Alaska National Wildlife Refuge, whether being born in the U.S. should give you automatic citizenship, concerns over the abuse of executive privilege related to wiretaps and torture, the federal outlook on highway I-69, and others. As in the past, I appreciated Mr. Pence's time speaking with his constituents, and I admired greatly those who had the initiative to speak and question him. All of my photos from the meeting are here.
I'm a journalist, publisher, software developer and entrepreneur with experience as a founder and organizational leader.
Work with me
or learn
more about me
.