This post is more than 3 years old.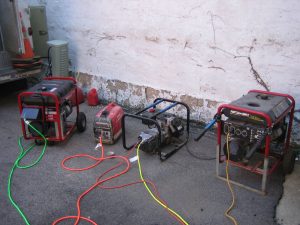 From the "I hope it doesn't happen but wouldn't be surprised if it did" department, I have some predictions and scenarios to throw out there about stuff that could happen sometime in the rest of 2008. I suppose this is mostly just a mental exercise for me, but maybe it'll spark some interesting comments/responses:
The price of a gallon of regular unleaded gasoline in the U.S. will hit $6 a gallon sometime this Summer, and perhaps $10/gallon or more by the end of the year. Measures will be taken by the federal and state governments to temporarily alleviate the financial burden on some people, but nothing sustainable. Some people will not be able to get to work at all, while others will have to carpool more, take the bus, ride their bikes, and walk.
The U.S. will initiate military action against Iran, probably in the form of heavy air-strikes. There will be no clear notion of victory or desired outcome other than to significantly destroy the country's own infrastructure, especially targets related to nuclear facilities. This action might be justified to the American people by...
An apparent attack on one or more U.S. locations, resulting in significant loss of life or infrastructure.
The U.S. airline industry will significantly cut back or even cease flight schedules as we've known them, and air travel will (once again) become a privilege reserved for the rich and famous who can afford private flights. Any frequent flier miles you've accumulated will become worth near nothing.
Most grocery stores will significantly scale back their inventories and restocking schedules, and significantly raise prices on what remains. Obtaining food from non-local sources, even basic staples, will be difficult at best, and most communities will begin to take emergency steps to feed their residents.
Hey, look, I don't like the thought of these things happening any more than the next person, but perhaps there's some value in naming what might be, even if it seems a bit outlandish or gruesome. Maybe if we believe these things are possible, we might feel more prepared to prevent or deal with them if they do happen.
What do you think? Too cynical? Worse? What are some other scenarios?
I'm a journalist, publisher, software developer and entrepreneur with experience as a founder and organizational leader.
Work with me
or learn
more about me
.