This post is more than 3 years old.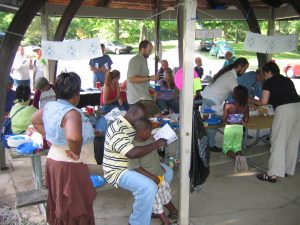 It's a privilege to volunteer in one's community. In one sense it's literally a privilege of having the time and means to say "I'm doing okay enough in my own life that I want to share some of my energy in service to the lives of others." In another sense, it's a privilege of publicly holding up what's important to us, a way of honoring our own roles in a community and the value that it has to us. My involvement in the Wayne County area is a way of showing not only my own interest in making it a better place for me and my loved ones to live, but also a way of making a commitment to the lives and needs of those who I don't know that well, who I can't necessarily relate to, who will be here long after I'm gone.

As it's sometimes said about charitable giving, I think you have to give your time and energy "until it feels good." But in the end, it's not about the number of organizations you're involved in or the number of hours you've spent giving of yourself. It's about whether or not you've made a difference in the lives of those around you.
I'm grateful for having a life that allows me to give of my time, and I'm grateful for those moments when it does seem a difference is being made. Thanks to the Richmond-Wayne County Chamber of Commerce for their recent award honoring my service with their Legislative Committee.
I'm a journalist, publisher, software developer and entrepreneur with experience as a founder and organizational leader.
Work with me
or learn
more about me
.