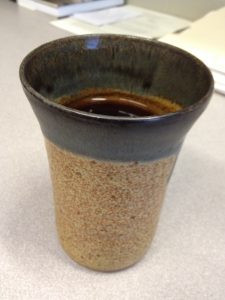 I work in a world with a lot of artificially constructed structures and images, and those structures and images have a lot of straight lines, right angles and cold, industrial, unfeeling surfaces.  Computer monitors, e-mail composition windows, 8 1/2 x 11 paper with black lines on it, rectangular desks, rectangular parking spaces in dark grey rectangular parking garages, and so on.
It's also the case that I try to do creative work: building interactive and engaging websites, collaborating with people to find innovative solutions to challenging problems, creative writing, creative thinking, and more.
Sometimes it can be a challenge to do creative work surrounded by pieces of infrastructure that don't elicit creativity, and that sometimes even discourage it.