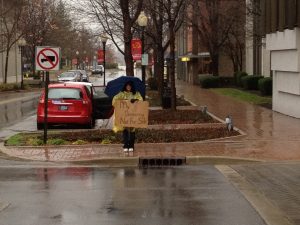 A lot has already been said about the Occupy Wall Street movement, and I have little new commentary to offer on its origins, tactics or potential impact that hasn't already been said.
The important question the movement raises, one that I hope we all take a moment to consider is, "what would it take to make us take to the streets in protest?"
I've written here before about our cultural disdain for those who take direct and public action to live out their personal values, whether it's through making statements that confront some untruth or injustice, being a community organizer, or holding up a sign in the rain on a street corner.
Practicing what we preach is hard, and fear of change is sometimes paralyzing, so it's no wonder that we can become confused, resentful or even outraged when someone does stand up for what they believe in, especially if what they believe in is different from our own views and beliefs.  It's vulnerable, difficult and even embarrassing to put ourselves out there in front of complete strangers, let alone to do so for hours, days, weeks and months at a time; no wonder we sometimes look at the OWS folks like they're a little crazy.  "There are civilized ways one is supposed to handle these things," we say.  "Standing in the street can't accomplish anything."
Continue reading "What would make YOU protest in the streets?" →