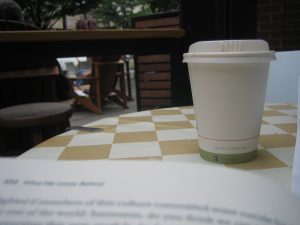 It's been a decent summer of reading for me, and I thought I'd post some very brief reviews of some of what I've encountered along the way.  For each book I've linked to an online purchase option, but please consider buying from your locally-owned bookseller or visiting your local library first.  I've organized the reviews into three sections: Culture, Novels and Business & Politics:
Culture
Ghost in the Wires by Kevin Mitnick
Finally, Mitnick gets to tell his side of the story when it comes to his adventures in computer cracking and social engineering.  Though his writing style isn't particularly compelling and his personal meditations on the interpersonal aspects of his adventures are a bit awkward, the details of how he pulled off some pretty technologically impressive (albeit illegal and sometimes destructive) hacks - and how law enforcement responded - make for compelling reading on their own.  As someone who spent a fair number of hours in my childhood trying to deconstruct how the phone system and the emerging world of BBSes and Internet nodes worked, Mitnick's book is a great visit to the past and a reminder that humans continue to be the weakest link in all computer security.